Massey Ferguson MF135 MF150 MF165 tractor factory workshop and repair download manual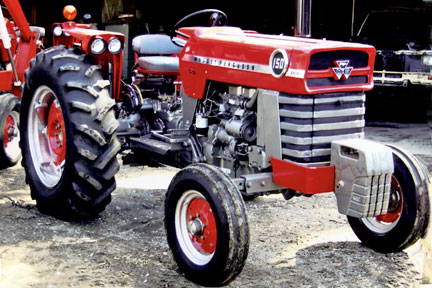 Massey Ferguson MF135 MF150 MF165 Tractor factory workshop and repair manual
on PDF can be viewed using free PDF reader like adobe , or foxit or nitro .
File size 38 Mb PDF document searchable with bookmarks.
The PDF manual covers
* BELT PULLEY
* BRAKES
* CONDENSED SERVICE DATA
* CONTINENTAL NON-DIESEL ENGINE & COMPONENTS
* COOLING SYSTEM
* DIESEL ENGINE & COMPONENTS
* DIESEL FUEL SYSTEM
* DIFFERENTIAL, BEVEL GEARS & FINAL DRIVE
* DUAL RANGE TRANSMISSION (WITHOUT MULTIPOWER)
* ENGINE CLUTCH
* FRONT SYSTEM
* PETROL FUEL SYSTEM
* HYDRAULIC SYSTEM
* IGNITION & ELECTRICAL SYSTEM
* INDEPENDENT POWER TAKE-OFF
* INDEX
* MULTIPOWER TRANSMISSION
* NON-DIESEL GOVERNOR
* PERKINS NON-DIESEL ENGINE & COMPONENTS
* POWER STEERING SYSTEM
* POWER TAKE-OFF (CONSTANT RUNNING & TRANSMISSION DRIVEN)
* STEERING GEAR
About the Massey Ferguson MF135 </h3>
Massey Ferguson developed a wide range of agricultural vehicles and have a large share in the market across the world especially in Europe. The next big selling model was the MF135, widely popular because of its reliability and power compared with other tractors at the time. This was the first model in the MF 100 series. The Massey Ferguson 135 is a popular tractor. In fact it is one of the most popular tractors for vintage and classic enthusiasts.
Massey Ferguson MF135 MF150 MF165 Tractor factory workshop and repair manual download
You Might Also Like...
Software: ClickCartPro, Copyright 1999-2021 Kryptronic, Inc. Exec Time: 0.117218 Seconds Memory Usage: 2.476402 Megabytes